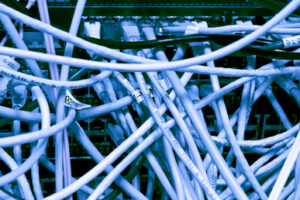 Improperly installed twisted pair cabling can result in poor network performance, maintenance issues, and concealed expenses. The following article discusses eight network cabling errors to avoid. To get the best results for your cabling project, make sure to consult with a company that is experienced and provides excellent service.
Mistake No. 1: No Future Planning
If your company is moving to a new office space and new cabling will be required, it would be wise to avoid outdated technology and install equipment that will meet both your current and future needs. Labor costs will likely be the costliest aspect of the project. Although high-quality cable will not be cheap, it will be well worth the investment for your firm's network requirements the next several years.
Mistake No. 2: Poor Cable Management
Implementing rack-based and ladder rack cable management will certainly raise the outlay for a project. However, sound cable management will ease maintenance and decrease downtime. You should be aware that cabling tasks do not end after installation. Additional cables will probably be needed, and configurations may be revised. Use a standard system for labeling and color coding cables for faster and easier identification. Doing so will speed tasks like repair, reconfiguration, and replacement.
Mistake No. 3: Parallel with Electrical Wiring
Generated by low voltage, the magnetic field conducted by data UTP (unshielded twisted pair) cables is an important feature for the conveyance of data. However, when UTP cables run parallel to electric wiring, there will be a disruption of its magnetic field. This results in garbled and noisy communication. Sometimes transmissions completely fail from point to point. Another negative effect is the extreme slowing of transmission.
Mistake No. 4: Nearby Devices and Fixtures
Noise can be introduced onto data cabling by more than just electrical wires. Fluorescent lighting, motors, and similar items that shed electrical or magnetic interference will wreak havoc on your cabling infrastructure as well. Make sure that in your planning, you leave a data cable pathway that avoids these kinds of hazards.
Part 2 will discuss four more network cabling errors to avoid.
Progressive Office Cabling
Founded in 1986, Progressive Office's success has been a direct result of years of commitment to seeking solutions on behalf of our clients in the Washington, D.C. and New York City areas. Efficiently working together, Progressive teams get cabling installed and operating as fast as possible while minimizing disruption and downtime. Call our toll free number (800) 614-4560 today.