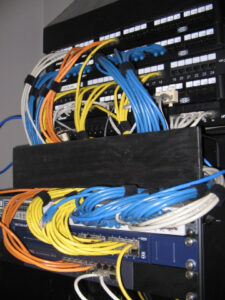 As discussed in Part 2, there are considerable cost savings from the deployment of zone cabling systems. Part 3 will continue discussing the basics and benefits of zone cabling.
Additional Zone Cabling Benefits
Additional IP devices for audio & video, BAS, digital signage, voice, data security, digital signage, WAPs (wireless application protocols), etc. can be integrated easily into the current structured cabling system through ZE (zone enclosure) connections.
Extra ports within the ZE facilitate fast MACs (moves, adds, and changes) of current service configurations.
For easing installation and decreasing labor costs, tested trunking and factory pre-terminated cables can be utilized.
Increased efficiency of pathway utilization will be realized for the entire facility space.
Structured cabling system deployment will be speedier and cause less disruption.
Smart & Green Building Designs
Perfect for smart and green building designs, zone cabling systems can reduce labor expenses and waste of cabling materials. Centralized connections inside ZEs achieve greater efficiency for the routing of pathways. LEED credits provided by the United States Green Building Council (USGBC) can be maximized. In addition, cable sharing can support several low-speed and low pair count applications functioning on a single 4-pair cabling system. This achieves greater efficiency in cable and pathway utilization.
Summary
Modern workspaces are becoming more social and flexible, and they are increasingly reconfigured and updated with greater frequency.
Zone cabling systems allows flexibility in work spaces, facilitating faster and less disruptive moves, adds, and changes than traditional cabling systems.
Zone cabling allows for greater efficiency in the use of pathways and materials, which is required for smart and green building designs.
CAT 6A shielded cabling is recommended in zone cabling designs to achieve maximum performance.
Shielded CAT 6A zone cabling designs result in greater performance, better support of remote powering applications, and ZE termination flexibility at practically no additional cost in comparison to CAT 6A UTP designs.
Regardless of size, zone cabling installations planned with 25% spare port availability will considerably decrease client disruption and allow the facility owner to recover the expense for extra ports inside two to five years or after achieving the threshold for ROI.
Progressive Office Cabling
Founded in 1986, Progressive Office's success has been a direct result of years of commitment to seeking solutions on behalf of our clients in the Washington, D.C. and New York City areas. Efficiently working together, Progressive teams get cabling installed and operating as fast as possible while minimizing disruption and downtime. Call our toll free number (800) 614-4560 today.