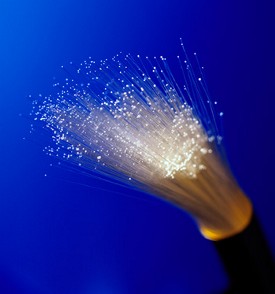 As discussed by Part 1, the most significant trend in IT (information technology) is the greater reliance of organizations on high-performance data communications (datacom) cabling. Part 2 will cover High Performance Cabling and Aesthetics of Cabling.
High Performance Cabling
The use of high performance cabling of copper and fiber optic cabling is influencing the design of wiring and cabling management systems. Data transmission integrity must be maintained by cable bend radius specifications. Now available are specialized fittings for raceways and other management systems that ensure minimum cable bend radius, preventing damage and maintaining effectiveness. Upcoming technologies such as 10 G/s Ethernet will result in greater demands, making it even more important that every aspect of a structured cabling system ensures high performance.
Being able to provide adequate space for the accommodation of bend radius needs to work in conjunction with the goal of being unobtrusive visually. This objective is affected by the necessity of physically separating power and low-voltage channels to prevent EFT (electrical fast transient) disturbances. Fortunately, a new raceway design maintains complete separation through crossover fittings that provide more space inside the raceway, allowing the bend radius of 10G/s cable's larger diameter.
Aesthetics of Cabling
The design of modern wiring and cable management systems now aspire to both form and function. Non-metallic raceways with visually attractive profiles in a variety of colors are now available in the marketplace. Stainless steel is also trending, featuring plates that conceal seams. Moreover, components can be combined in matching colors and styles. This ongoing aesthetic drive has led to almost invisible activations that are recessed and flush. Poke-through devices now feature datacom ports and receptacles with sleeker profiles. Accommodating a greater number of outlets, high-capacity service activations are much less obvious than dated low-capacity fittings.
Summary
Product development for wiring and cabling management systems must unceasingly keep pace with increasingly complex datacom requirements. Solutions from manufacturers must be compatible with a wide variety of datacom cabling, allow for both system and operational flexibility, and deliver eye-pleasing aesthetics in the workplace.
Progressive Office Cabling
Founded in 1986, Progressive Office's success has been a direct result of years of commitment to seeking solutions on behalf of their clients in the Washington, D.C. and New York City areas. Working together, their cabling teams get cabling installed and operating as fast as possible while minimizing disruption and downtime. Call their toll free number (800) 614-4560 today.