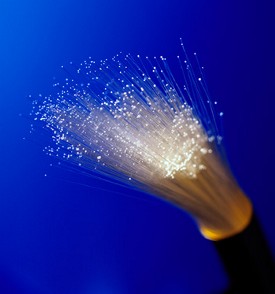 Fiber optics is capable of resolving many issues in data communications. However, computer data is normally transmitted over ordinary copper cables because it's adequate at lower speeds and shorter distances. It is not advisable to utilize fiber cable in these ordinary instances because of the high costs.
Fiber is impervious to electromagnetic interference because the signals are transmitted as light impulses. That means that Electromagnetic Interference (EMI) is not possible. Light waves are not effected by magnetism. This type of impediment can happen in coaxial and Cat5/6 cables because electricity can interfere with data signals over copper wires. Magnetic fields produce electrical current and this electromagnetic Interference is noise that can scramble data.
Fiber optic cabling also is much better at providing security of data since electromagnetic fields are not emitted around optical fibers. The data is restricted within the structure of the cable making it impossible to tap signals being communicated without cutting across the fiber. Emissions can not be easily intercepted. Hence, the fiber is by far most secure channel for carrying sensitive data.
Fiber is also a "non-conductive cable" because there is no metal in its design. It's a highly purified glass fiber.  While copper is a conductive cable that can attract power surges and unwanted current. With fiber, outdoor varieties are costly because these call for special strength. Therefore, fiber optic cable is usually more cost-effective for indoor use. With copper, it is also important to get rid of the current commonly known as ground loop. The metal cable can run into signal transmission distortions due to slight transmissions in electricity.
Fiber optics also does away with threats coming from sparks. The transmission of signals can be hazardous because of this phenomenon. Although the spark itself is not dangerous, it can lead to greater problems especially in industrial and chemical plants where the air is polluted by possibly dangerous vapors. Fiber cable does not generate sparks because it carries no electrical current.
Installation of fiber is less difficult because of its small size and flexibility. And fiber optic cables can pass along the same route as electric cable without producing any noise. The size, lightness and elasticity of fiber optic cables also makes them suitable for short-term or portable installations. And they transmit signals over longer distances too. Amplifying the transmission capability of copper wire cables makes them more unyielding. Thicker copper cables are also hard to mount in spaces where the cables have to pass through cable conduits and concrete walls.
Fiber optic means higher bandwidth too. It has the capability to transmit high-speed signals over lengthy distances without repeaters, unlike copper cables. The fiber optic's range is not infinite but it is way more than copper cable.
If you need help in figuring out the ideal cabling topology, contact us or call 202-462-4290 for a free on-site survey and proposal.