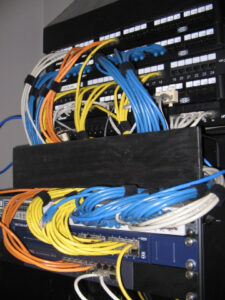 If you are busy running a business every day, you probably don't consider the IT infrastructure of your company very often. However, if you let it become outdated, you will make your enterprise un-competitive and prevent it from achieving its potential.
Think of your IT network as the transport system for your data and some of the services your firm provides. Using structured cabling is the best way to ensure its efficiency. This system is advantageous because it allows the connection, movement, and removal of devices without needing new cables every time there is a change.
A structured cabling system that is up-to-date can run optimally in the present and also allow a company to readily expand in the future as its business grows. The following are five advantages of a structured cabling system.
Decreased Maintenance Costs
Replacing old cabling with superior high-quality cabling will ensure better performance and longevity. Structured cabling also makes it much easier to trace and repair problems, resulting in less downtime and monetary losses from maintenance work. The unification of data, voice, and video on a single IT network will also reduce the time needed for maintaining and repairing components.
Ease of Management
The consolidation of cabling under a single system that can handle data in several formats will be much easier to manage than a disorganized system of multiple point-to -point wiring. Structured cable also allows longer cable runs, which help decrease errors and interference affecting data. Cabling will also be easier to remove and install.
Greater Speeds
Slow data transmission hurts the bottom line because time is money. If your company still has obsolete CAT3 cables, upgrade to CAT5e or CAT6 cables to keep up with your competitors. Fiber optic cables will provide even better performance. Upgrading will also allow your organization to more easily expand when more bandwidth is needed.
Less Clutter
A well-organized office projects the desired image for clients and customers. It also helps promotes company pride among employees. Clutter and poor data transmission caused by bundles of disorganized wires and cables will be eliminated by the simplified organization of structured cabling.
Progressive Office Cabling
Founded in 1986, Progressive Office's success has been a direct result of years of commitment to seeking solutions on behalf of our clients in the Washington, D.C. and New York City areas. Efficiently working together, Progressive Office teams get cabling installed and operating as fast as possible while minimizing disruption and downtime. Call our toll free number (800) 614-4560 today.